What's News @ The Glory
Welcome to our first newsletter for 2019! It's hard to believe another year is over?
Rest assured, we are all still hard at work providing great holiday experiences for you, our valued customers. 
Our Team
For those who haven't met our awesome duo Billy & Jayme-Dee yet – they joined us in February last year and have become an integral part of our team.   Billy is originally from Newcastle (NSW) and Jayme from the Barossa Valley (SA) – they look forward to catching up for a chat next time you visit.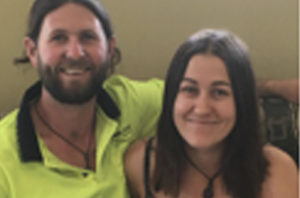 You may recall Holly & Lewis who were with us for a couple of Summer seasons?  They returned to the UK, married in 2017 have recently welcomed little baby Elvis into their lives. 
They are currently building their own home near Manchester (Lewy is  bricklayer and doing most of the build himself).
We have also had Jonathan (Sweden) and Miriam (Norway) with us who have performed a range of tasks around the resort during the busy holiday period.  They have really enjoyed (mostly!) the hot "Aussie" Summer – and are not missing the current below zero temperatures back in Scandinavia!  They have bought themselves a new (second hand) car and a roof top tent and will be heading off again soon to explore the great Oz outback further.   We wish them safe & happy travels!
Echuca United Fishing Classic
We welcome back the 2nd Echuca United Fishing Classic – March 15th – 17th 2019
Entertainment starts Friday 15th March 2019 at 6:00pm 
Fishing Classic starts Saturday 16th March 7:00am till 5.00pm and Sunday 17th March 7.00am till 11.00am
There will be competitions for all age groups and abilities. Fishing can be done by boat or simply by standing on the bank and enjoying the serenity. There is a vast array of prizes to be won.
The Club will have a fully stocked bar and food will be available to purchase for breakfast, lunch and Saturday night dinner.  2019 merchandise will be available to purchase over the weekend.
There will be live entertainment, raffles and giveaways flowing throughout the evening. And don't worry if fishing is not your go. There will be loads of activities and entertainment available for those who don't wish to compete.
For those of you who simply want to do nothing but soak in the atmosphere, that's fine too! Grab a few friends, come and join us at Morning Glory River Resort and enjoy a self-contained Villa or bring your caravan or camp gear.
Costs are:  Adult or Junior Fishing Entry (15 or under) Including a ticket in Major Draw Prize – $50
Junior Fishing Entry only – $20
Purchase Entries through trybooking.com.  Further details are available:  www.echucaunitedfishingclassic.com.au
Make sure you book with us in advance to ensure you secure your accommodation requirements.